RAM, a world leading media research company with one of the largest reference databases in communications, launches a new type of performance report that focuses on the basic tasks of an ad: to create action and strengthen the brand. This is a new KPI that both simplifies and deepens the analysis.
It can sometimes be complicated to analyse a report and relate it to advertising effectiveness as there are many contributing factors that need to be understood.
"With this evolution of the new KPI Index, we want to simplify the basic results and highlight the ability to enhance the brand and to create action. The overall efficiency is a combination of both" comments RAM's CAO Staffan Hultén
The starting point for these indices is the effectiveness results that a single ad or campaign generates in a standard RAM measurement. The results are compared to all measurements in the same industry, where the middle measurement receives an index of 100, for all image and action questions. It is now much easier to understand the ad's strength and weaknesses. The purpose of the report is that the sales representative and the advertisers can quickly understand how the ad is performing and initiate discussions on how campaigns can be improved moving forward.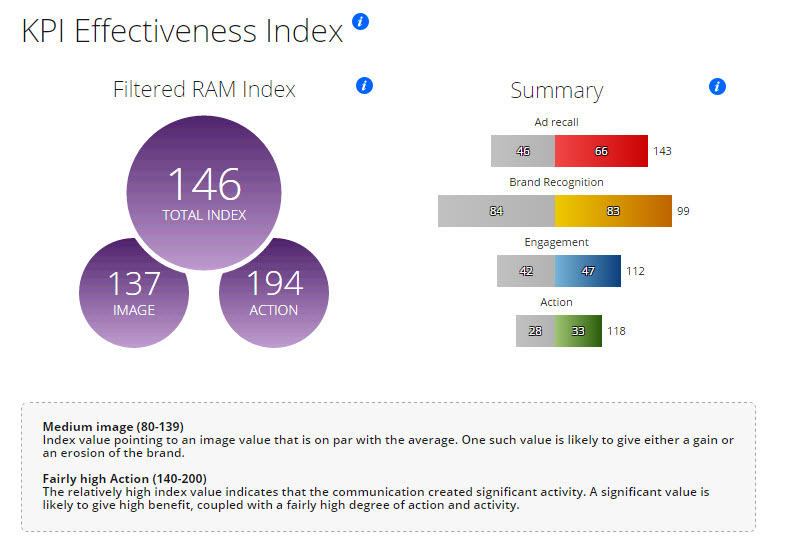 An important element of the new report, is the ability to easily see the best performing ads from the Publishers own database for the selected industry:  i.e. which ads perform best overall, and individually for Image and Action. This ability to highlight good examples of strong performing ads will be a great tool for the ad sales teams, and will give them a reason to discuss how communications can be developed moving forward. Additional information on the importance of ad environment for example will support the sales objectives of encouraging advertisers to increase their investment, with more effective, efficient advertising campaigns.

"With this report, RAM has not only created additional analysis, but also an increased understanding of how advertising works," comments Staffan Hultén.
An important task for RAM is to ensure that the measurements and results are easy to use in the day to day sales operations within media owners and consultants. The ability to produce results in a clear, concise manner that the advertiser can understand is the most important tool a media owner has.
For more information contact:
Staffan Hultén, CAO RAM Group
Telephone: +46 (0)703 249193
E-mail: staffan.hulten@rampanel.com